Three incredible days in the driest place on earth - San Pedro De Atacama
When I first heard of San Pedro de Atacama being the driest place on earth - I must admit, I wasn't exactly picturing paradise. I had no idea what to expect but having wanted to visit Salar de Uyuni since I first held a camera and knowing this was the best place to get to it from I was convinced to go.
What I had no idea was that it was going to be one of the most breathtaking places I had ever been to with the most varied and incredible landscape. In other words it's a photographers paradise and I sure as hell wore out my camera batteries.
The beauty about having no expectations is when you are blown away by the unexpected.
The high Atacama desert in South America is the driest non-polar desert on Earth, and spans across parts of four Andean countries - Peru, Bolivia, Argentina, and northern Chile. Exploring the entire desert alone would make a great trip to add four stamps to your passport - the Atacama is a destination in itself and rewards you with breathtaking scenery, interesting culture, and some of the world's natural wonders. But if you're just visiting Chile, don't skip the desert in the far north of the country.
We opted to take a 2-hour flight from Santiago north to Calama which was very easy to get to! Our courageous friends did it by bus: an 18-23 hour overnight bus from Santiago and apparantely a rough one with only spanish movies and no food, but all for the wonderful price of around $28.
With little research we soon discovered tours in San Pedro were a bit more on the pricier side so this made us decide to spend less time there and as a result we only booked 3 days (which I immensely regretted afterwards) so when we slowly started realising what it had to offer we knew we had a hell of a lot to jam pack in! You could honestly spend a week here and not be bored, but it might break the bank a little.
We were lucky enough to travel with a group of some amazing friends we had made along the way and because we had heard the tours were so pricey we decided to rent a car and do them solo. Probably the best decision we could have made. Would highly recommend anyone travelling here to do so.
So here's what we explored in our three days and you'll see from the photos why we all fell in love with this funky desert town.
All the scenery below was shot within two - three hours drive of the town of San Pedro de Atacama, and some of it was within thirty minutes away.
1. Laguna Minique and Laguna miscanti
The Altiplanic Lagoons of Miscanti and Miñiques sit at 4,000 meters elevation and are a two-hour drive south of San Pedro de Atacama. We all munched away on our cocoa leaves on this day as the altitude does tend to get to your head after a while. But between the cocoa leaves and the endless bottles of water to keep our oxygen levels fine we still had enough energy to sing our hearts out on the two hour ride there.
You'll find stark desert landscape, lush lagoons, indigenous villages, and lots of guanacos and vicuña along the drive.
2. Valle de la luna
Visiting Valle de la Luna is like finding yourself on the Moon, as I can only imagine. I doubt there's much chance that I'll see the Moon in my lifetime so this experience was probably the closest thing. It's rare to see such diversity of surreal landscapes as you'll find in the Atacama.
3. Laguna Cejar
Laguna Cejar is only a half-hour from town and makes a fun half-day trip. This is one of the only natural attractions where you can swim, and this body of water is so salty, you'll find yourself blissfully bobbing around and trying to stay upright. The landscape makes for amazing photos too.
We were so happy to get there before the mob of tourists arrived. So if you ever find yourself here make sure you go at around lunch time and you'll enjoy the place to yourself like we did :)
4. Rainbow Valley
It was a long trek to get to Rainbow Valley as the road is a bit rough so you'll need to make sure you have a good car as you wouldn't want to get caught with a punctured tyre out there. But once you get there, the landscape is again incredible. The Rainbow Valley, named for the multicoloured rocks that get their various hues — from white to red to black — from the mountains' mineral makeup was a stunning place. We felt like we were the only people there which was incredible, and set ourselves up an incredible lunch spot in the middle of no where. I decided to fly my drone, as a beginner I was still freaking out. Things got worse when I saw a massive Condor bird circling it.
You'll see from the footage why though slightly far out, this place is definitely worth a visit.
5. San Pedro de atacama town
San Pedro town itself feels like it's straight out of an old time Western film, set somewhere in the Southwestern US. The white one-story Spanish colonial adobe buildings are mud-splashed from the deep red dusty roads. You might see cowboys on horses or sheep or goat herders, or first you might hear their hooved friends pounding the unpaved roads on a walk outside of town. There are dogs everywhere in this town, but not just street dogs, friendly happy dogs everywhere that are very well fed by the restaurant owners (or so we were told) and walk around like they own the place. It's actually a dog paradise for animal lovers! Needless to say we were in heaven!
It's a great place to spend a few hours or come to every evening to enjoy its amazing food! We were certainly not expecting the food and prices we found in Atacama but this yet again was another unexpected surprise and also very cheap drinks!
6. Star gazing
Unfortunately for us we were there during a full moon but it is said that because of the high elevation of the Atacama desert you'll have a clearer view of the heavens. Star gazing is such an attraction here that the European Southern Observatory (ESO) operates the Atacama Large Millimeter/submillimeter Array (or ALMA) here — the largest astronomical project in existence. ALMA is a single telescope of revolutionary design, composed of 66 high precision antennas located on the Chajnantor plateau near San Pedro de Atacama.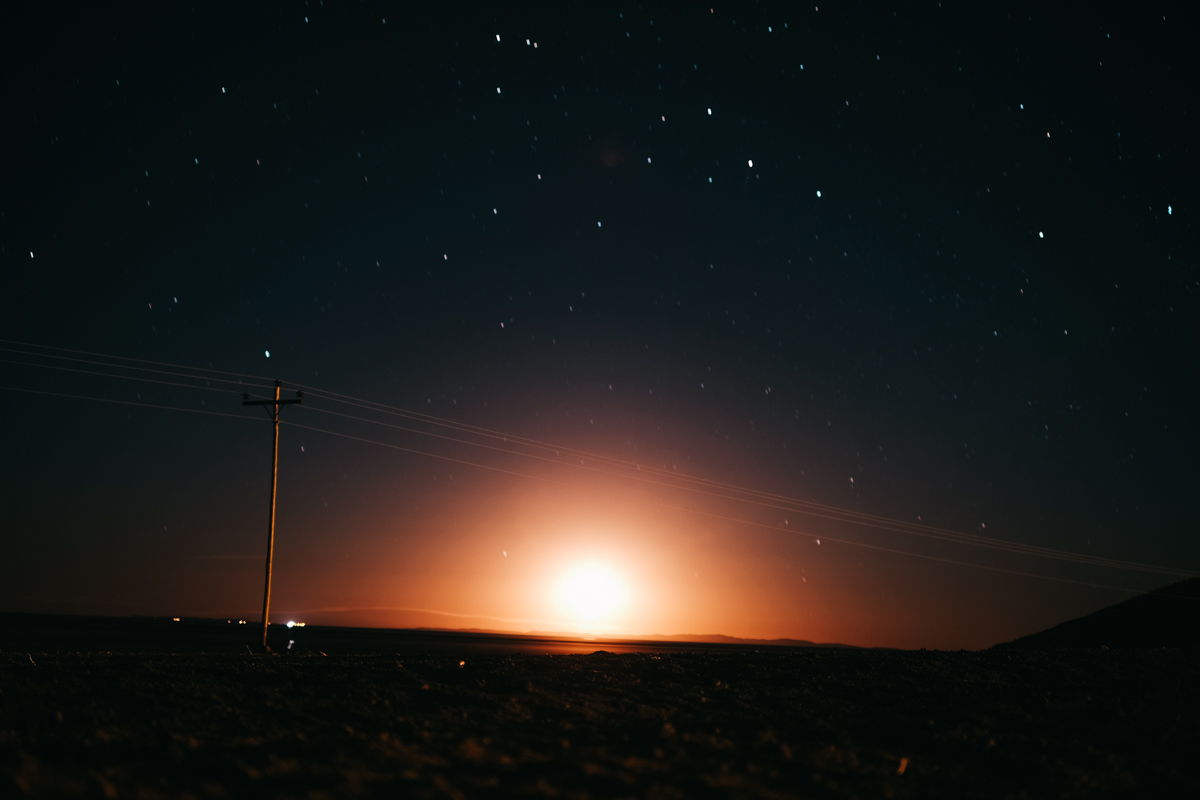 As the sun rose on the sleeping town we bid farewell to an incredible experience in Atacama and stuffed ourselves inside a small minivan with 6 other fellow passengers and headed towards Bolivia, ready to finally tick of the ultimate tick box - Salar de Uyuni! (Stay tuned for that adventure)
Adios Chile! We will MOST DEFINITELY be back!
Here's some very rough, badly edited, footage caught with the drone. I'm still practicing so apologies for all the camera shakes and our voices in the background!